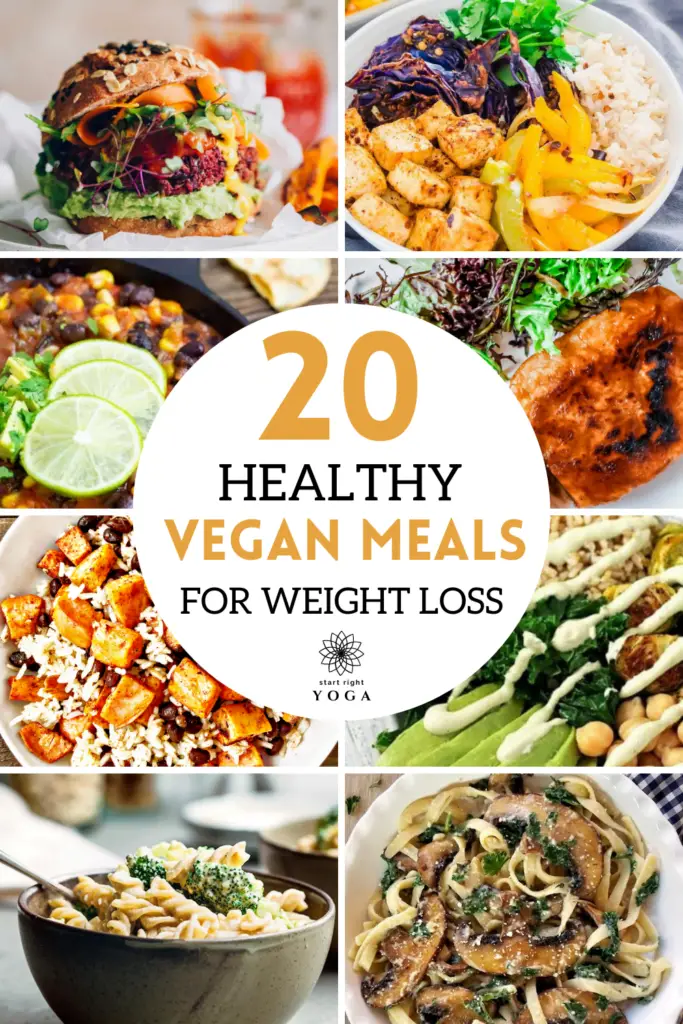 Healthy vegan weight loss recipes that are just as delicious as they look that will keep you full for hours.
These healthy plant-based recipes are full of protein, low in saturated fats, and packed full of healthy nutrient-dense veggies! The perfect combination to help you keep on losing weight.
Healthy vegan weight loss recipes don't have to be boring, the main benefit of eating vegan and cooking for yourself is that you generally use more healthy nutritious ingredients.
The more goodness you give your body through fresh vegetables, healthy fats, and proteins the fuller you feel, the more satisfied you are and the less likely it is for unnecessary eating or snacking.
Eating vegan is actually a good way to lose weight, if done the right way.
Eating vegan chips doesn't count and definitely won't help in your weight loss journey.
Whole plant-based foods are naturally lower in calories have more fiber and contain more water all of which means you feel more full and you eat fewer calories, leading to, yep you guessed it, weight loss.
Most healthy vegan recipes will be great for weight loss. Fresh ingredients, nutrient-dense vegetables, healthy fats, and good natural unrefined carbohydrates.
A lot of diet plans call for no carbohydrates but actually, you can still lose weight while eating carbohydrates.
Eating vegan and more so eating healthy is about balance. Not overeating, eating fresh and healthy ingredients.
So let's not get too stressed about the whole, do you or don't you, cut carbs.
Weight loss is just calories in vs. calories out.
You may also lose too much muscle if you cut carbs completely on a vegan diet as your body needs energy or it will break down muscle tissue for energy.
Therefore some of these healthy vegan recipes DO have carbohydrates and some do not.
One thing they all have in common is that they are fresh, healthy and tasty! And are great for losing weight.
20 Healthy vegan Weight Loss recipes
These vegan meals are great for either a warm lunch or dinner or cold the next day.
Healthy Vegan Recipes To Lose Weight
If you want some healthy vegan recipes for weight loss then here are 20 plant-based recipes that are great for keeping you feeling full whilst being healthy, balanced, and nutritious.
Now start making your shopping lists to begin cooking these amazing vegan recipes for faster weight loss.
You may also like our healthy vegan lunch recipes to lose weight for a lighter lunch option.
---
More food posts