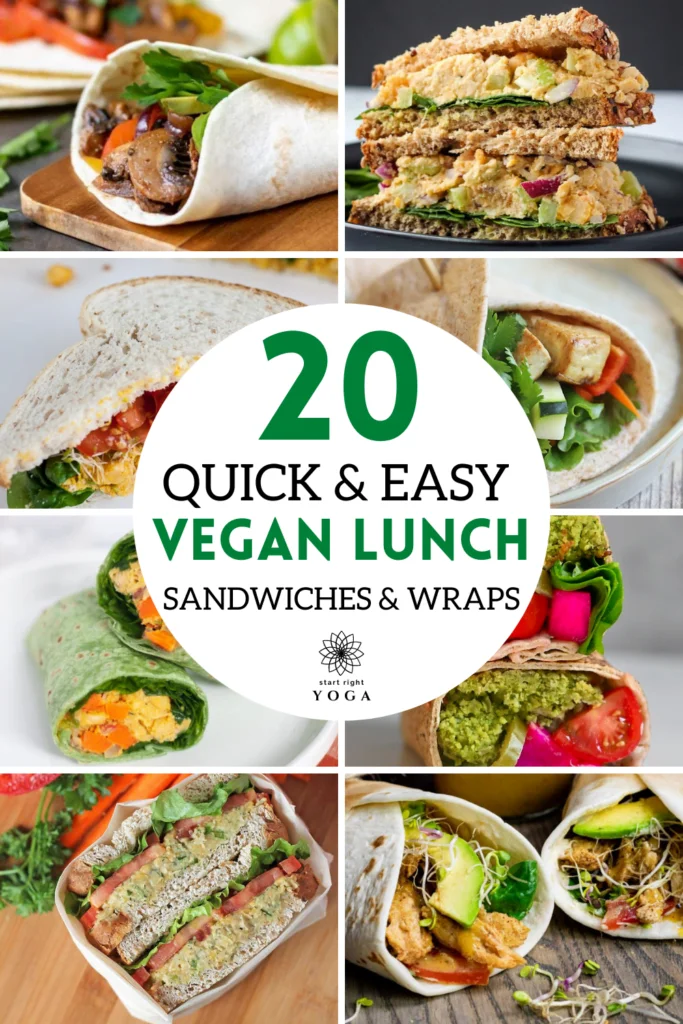 Being vegan doesn't mean you can't eat delicious sandwiches or wraps for lunch. Today we look at 20 easy vegan lunch sandwiches and wraps ideas that you can take to work or school.
Fast and easy to make, sandwiches are the staple diet for a lot of people at lunchtime.
You can make a good vegan sandwich the night before or the morning of in under 5 minutes.
And when you get bored of sandwiches, just swap to a healthy vegan wrap. It's the same but has a posh feel to it.
A salad sandwich or wrap can get a bit dull after a while so what can you add as a vegan or vegetarian to make your lunchtimes more exciting and filling.
Your lunchtime vegan wraps and sandwiches can be as exotic as you want to make them.
As a vegan following a plant-based diet, you will have most likely tried some processed meat substitutes in your time.
While these make a quick and convenient wrap or sandwich fillers, such as a BLT, it's also good to try some other more natural options.
You can add hummus, hummus is so good for you, full of flavor and high in protein.
Avocado adds creaminess and a heap of heathy fats, you could use avocado as a butter substitute.
You can use nut butters with a combination of salads. Yes they do go, have you ever tired cashew nut butter with cucumber?
Sounds odd, but it works.
You could add beans to your vegan wrap or sandwich for a three-bean wrap. They are the best!
You could also use leftovers from a vegan bean chilli in a cold wrap the next day.
When you start getting creative with your vegan sandwich and wrap fillers, you'll see there are so many options to try. You just have to be brave and try some.
To give you a head start we've gathered 20 yummy vegan sandwiches and wrap recipes that we liked for you to try for your next lunch.
20 quick and easy vegan lunch sandwiches And Wraps to take to school or work
Quick Vegan Lunch Wraps and Sandwiches
20 vegan and vegetarian lunchtime wraps and sandwiches to keep you full and satisfied up until dinner.
Hopefully, you can find your new favorite vegan lunchtime sandwich or wrap from our list.
Keep trying new combinations in your lunches to see what you like.
---
More food posts